NEWS
Members of the Rhinelander Area Community Band would like to give a Christmas gift to the Northwoods: a free concert of holiday music on Saturday, Dec. 2, at 3 p.m.
---
A Sun Prairie man was killed Sunday morning in a two-vehicle collision at the intersection of County Highway K and U.S. Highway 51.
---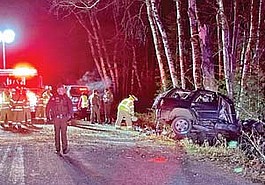 An Eagle River man died on Nov. 15 as the result of a one-vehicle crash on Sundstein Road in the town of Lincoln.
---
Opening weekend of the nine-day gun hunt in Wisconsin brought warm weather and plenty of sunshine for most of the state. What it didn't bring was great hunter success in the Northwoods, according to preliminary reports.
---
On a 16-2 vote last Tuesday, the Oneida County Board of Supervisors voted to create a tri-county panel to oversee the transition of services now provided by the Human Services Center to another delivery structure.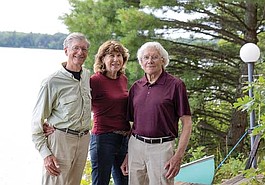 A family that has helped to provide access to higher education at Nicolet College in Rhinelander since 1983 received a special honor on Thursday, Nov. 16, National Philanthropy Day.
---
The ethics committee created by the Rhinelander Common Council back in 2020 met Nov. 13 to discuss a complaint filed against a city employee.
---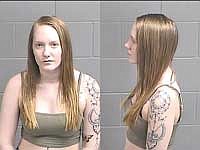 A four-day jury trial has been scheduled for early April in the case of a 25-year-old Rhinelander woman charged in connection with the overdose death of a 29-year-old Town of Pelican man back in 2022.
---
For a 35th year the Compassus hospice locations in Rhinelander and Arbor Vitae will light Trees of Love to acknowledge the pain of loss many feel during the holidays.
---
The Wisconsin Institute for Law & Liberty (WILL) has won a major Second Amendment legal victory, securing a nationwide injunction against a proposed Biden administration rule that would require millions of Americans, including many disabled veterans, to register and pay taxes on up to 40 million pistols with stabilizing braces.
With respiratory illness season underway, it is important to understand illnesses that will be circulating in the community. Respiratory syncytial virus (RSV) is one of them.
---
The Lac du Flambeau town board, after meeting in closed session at the end of its Nov. 15 meeting, approved another payment to the Lac du Flambeau Band of Lake Superior Chippewa Indians related to the ongoing road easement issue the town has with the tribe.
---
Without an amendment, at least not a successful one, and without a discouraging word, at least not many of them, the Oneida County Board of Supervisors unanimously approved Tuesday a 2024 budget that will raise taxes by 5 percent.
---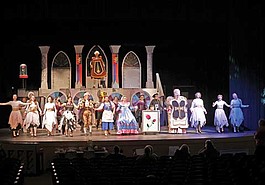 The cast of the School District of Rhinelander's production of "Beauty and the Beast" rehearses the iconic song "Be Our Guest" on stage at the John and Dori Brown Performing Arts Center at Rhinelander High School Tuesday, Nov. 14, 2023.
---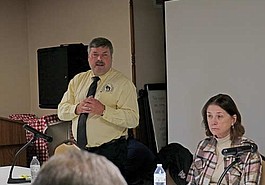 The boating season is over for the year but the health and future of local lakes is on the minds of many as three listening sessions hosted by state Sen. Mary Felzkowski (R-Tomahawk) and Rep. Rob Swearingen (R-Rhinelander) this week drew standing-room only crowds who were focused primarily on the …