OUTDOORS

Anglers in the Upper Midwest Bass Challenge Series (UMBCS) Central Division pulled in to Lake Nokomis early on the morning of Aug. 13 to find the water approximately four feet low. That would make the fishing tough for some teams, and work in favor of others.
---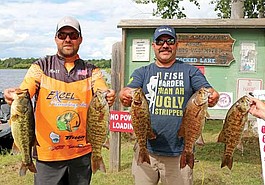 The Wisconsin Bass Team Trail recently held its last qualifier tournament of the year on Lake Mohawksin. There were 40 teams signed up for the event, but one team dropped out due to motor problems. This meant 78 anglers would take to the lake in search of the five biggest …
---
The Wisconsin Department of Natural Resources (DNR) is seeking public comments on a master plan variance that would add additional ATV/UTV routes and trails to Northern Highland–American Legion State Forest (NHAL). The public comment period is open through Aug. 30.
---
Tomorrow I leave for a four-day fishing trip with my two brothers on a lake north of Thunder Bay in Ontario. And I have mixed feelings.
---
The Wisconsin Department of Natural Resources (DNR) is reminding eligible hunters hoping to participate in the Gun Deer Hunt For Hunters With Disabilities to contact and confirm their location with a hunt sponsor before Sept. 15.
For those who do not participate in fishing tournaments, fishing can be a relaxing way to spend the day. Getting in the boat with family and friends and floating around the lake, or even grabbing a cane pole and fishing from shore, can make for a perfect day.
---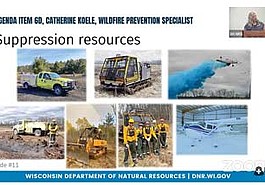 Department of Natural Resources (DNR) wildfire prevention specialist Catherine Koele recently spoke to the Natural Resources Board (NRB) about the department's wildfire department.
---
In the words of Minnesota DNR researcher Paul Radomski, "You would have to be living under a rock" not to know about the need to inspect and clean your boat on entering or leaving a lake to help prevent the spread of aquatic invasive species.
---
The Wisconsin Department of Natural Resources (DNR) has announced the recent launch of a Drought Resource webpage as a new public source for information related to the drought conditions experienced by 82% of the state.
---
Scott Karel, Department of Natural Resources (DNR) policy specialist, appeared before the state Natural Resources Board (NRB) in August to review the gray wolf harvest rule.
It is no secret that water levels on the Willow Flowage vary over the course of the summer, but neither organizers or anglers expected the flowage to be over eight feet low by the morning of July 30 when the Upper Midwest Bass Challenge Series (UMBCS) tournament commenced.
---
Several recent talks, studies and webinars have focused on the various chemicals and compounds that are found in Wisconsin waters and their varying effects on fish.
---
We know about the annual migration of loons, of ducks and other waterfowl, of monarch butterflies, even the movements of fish within out lakes at different times of year.
---
I can't remember how old I was when I first caught a fish on an artificial bait. I don't even remember the kind lure or the species of fish.
---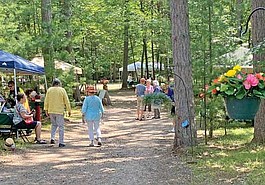 I had an opportunity this year to not only attend Garden Fest at Seasons of Life, but to have an educational booth at the event.